30 jewelry brands you should know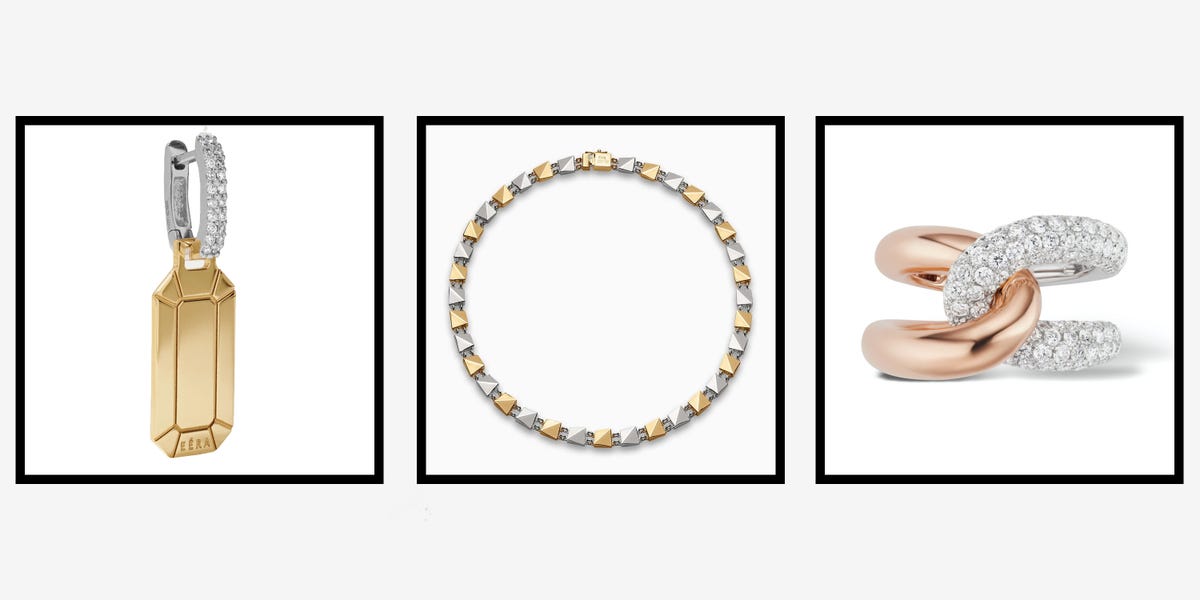 Jewelry is the gift that keeps on giving. It's the kind of investment you want to make that will last a lifetime and can be passed on as an inheritance. Today, it is essential to support emerging and innovative designers when purchasing new jewelry, for two reasons: you are helping these independent artists with your purchase, and you are discovering new brands before anyone else.
The following 29 jewelry brands encompass a range of emerging designers, each specializing in a mix of metals, gemstones and diamonds. Their pieces can easily be paired with a simple white t-shirt and jeans or a dressier look for a night out. Below, find the ultimate guide to the best up-and-coming jewelry designers you should add to your collection.
Advertising – Continue Reading Below
Marie Lichtenberg, a former fashion editor, was inspired by a gift her mother gave her to launch her own jewelry brand. The Creole-inspired medallions bear different inscriptions. This one is the perfect colorful item to add to your choker.
Eéra jewelry is the perfect conversation starter: it's elegant, yet playful. The jewelry is available in upbeat PVD coated metals that totally uplift the mood.
A former Barney's fine jewelry buyer, Jennifer Koche, recently launched a line of modern heirlooms. All inspired by memories of her grandmother and Victorian treasures.
Viltier, a French fine jewelry brand, is a modern and elegant label launched by two childhood friends. All her jewelry is made in their French workshop using all conflict free stones and fair trade gold.
Jia Jia Zhu, a former fine jewelry buyer at Bergdorf Goodman, has shifted gears to launch her eponymous jewelry brand. All its stones are selected by hand and left in their natural state. Each stone represents a different meaning, so you will be able to find something that works for you. Each stone in this piece represents a different chakra.
Maria Sole Ferragamo launched her brand in 2019. Her mission is to create jewelry from leather and brass scraps for unique pieces. This jewel will add a bold touch to your look.
The new unisex jewelry brand Etiq Design is perfect to share with your partner. This two-tone necklace is ideal for those who like to mix metals.
Ephod is both playful and elegant. The graphic designs have a mix of enamel and diamond elements.
New York-based fine jewelry brand Marlo Laz is known for its talisman-inspired pieces. One of the most coveted jewelry brands by fashion editors.
Emily Weld Collins jewelry was created to serve as talismans and amulets. These coins are crafted with 18k gold and platinum which will allow these coins to be passed down from generation to generation.
With a background in industrial design and as the daughter of Turkish jewellers, Senem Gençoğlu needed to create jewelry that had both design and function in mind. Kloto is a sophisticated yet cool piece of jewelry that you want to own.
Rondel is a contemporary fine jewelry brand made with recycled gold. Lindsey Julia Boyd, the founder of Rondel, was inspired by her grandmother's charm bracelets and the meaning they carry. These pieces are modern heirlooms that will last a lifetime.
Emily P. Wheeler's jewelry is vibrant and joyful; she likes to experiment with unexpected shapes. These rings are all unique and are available in different stones.
Neptune Jewels is a jewelry brand that makes limited quantities, including custom pieces. The designer behind the brand, Taline Arslanian, is a first-generation American artist and gemologist.
Tara Hirshberg launched her eponymous brand in 2014. Prior to launching her jewelry brand, she was an art dealer and private curator. You can see the art background reflected in her jewelry. Her new collection, Cocktail, is a total mood booster and just what we all need this summer.
Mad Lords is a Parisian luxury jewelry boutique curated by the world's most exquisite designers. Mad Lords founders Caroline and Serge launched their own eponymous brand nearly a year ago.
Akalia Johnson started by doing special orders for clients, and in 2020 she decided to launch her brand. Her jewelry is bold, playful and worn every day, not reserved for special occasions.
The make-to-order brand Simuero is based in Valencia, Spain. Each piece is unique and has an organic feel, and all pieces are made with recycled materials.
Manluu designer MoAnA Luu was inspired by her Creole heritage when conceptualizing her gender-neutral jewelry line. This bracelet design draws inspiration from the brand's signature collection with woven rattan reimagined in gold.
Bea Bongiasca is known for her playful enamel jewelry. Her latest collection includes diamond and two-tone pieces.
Cast Jewelry was launched in 2021, aiming to collaborate with different artists to curate capsule collections. These earrings are the result of a collaboration with the jeweler Alice Cicolini.
Sherman Field was first launched in 1967 as a high-end couture brand, but was later relaunched in 2019 as a fine jewelry brand. The founder, Danielle Sherman, was also a co-founder of The Row. Its jewelry specializes in 18-carat chains, medallions, rings and earrings.
The new Uniform Object brand is the timeless yet fashion-forward jewelry brand you want to own. Its just-launched collection of modular systems allows for versatility. In addition, all jewelry can be shared with your partner.
The fine jewelry designer and artist behind Darius Jewels, Darius Khonsary, draws inspiration from her Persian ancestry. Each piece is handmade with 18k gold.
Californian jeweler Harwell Godfrey has quickly become one of the most coveted jewelry brands. Her jewelry is inspired by ancient textiles and ethnic motifs, which can be seen through all the intricate details of her pieces.
As third-generation diamond dealers, the twin sisters behind Gemella Jewels were bound to draw inspiration from the unique and rare pieces that surrounded them from a young age. This interlocking ring from their line is available in a variety of metal and stone combinations.
Sapir Bachir began his career as a textile designer at Proenza Schouler and Calvin Klein. She launched her eponymous brand in 2019 and draws inspiration from both her heritage and a mix of cultures. Her jewelry is minimalist but draws attention to movement.
Valery Brinda is a Brooklyn-based fine jewelry brand that is entirely produced and sourced ethically. Their latest collection has an argyle design inspired by their logo and the arches of the Brooklyn Bridge.
Prasi was started by two Brazilian friends, Helena Sicupira and Mariana Prates. They both wanted to create jewels inspired by their native country and the artists who marked them. Prasi's two-tone bracelet is the perfect addition to your wrist game.
Jillian Sassone started Marrow Fine as a passion project, reworking pieces from her late grandmother's heirloom. Her fine jewelry can be worn every day and is easily stackable. She recently expanded her bridal collection by adding bands for men.
This content is created and maintained by a third party, and uploaded to this page to help users provide their email addresses. You may be able to find more information about this and similar content on piano.io
Advertising – Continue Reading Below