Balfour & Co. of Dallas reinvents tradition with Kendra Scott's line of 'Greek' jewelry for fraternities and sororities »Dallas Innovates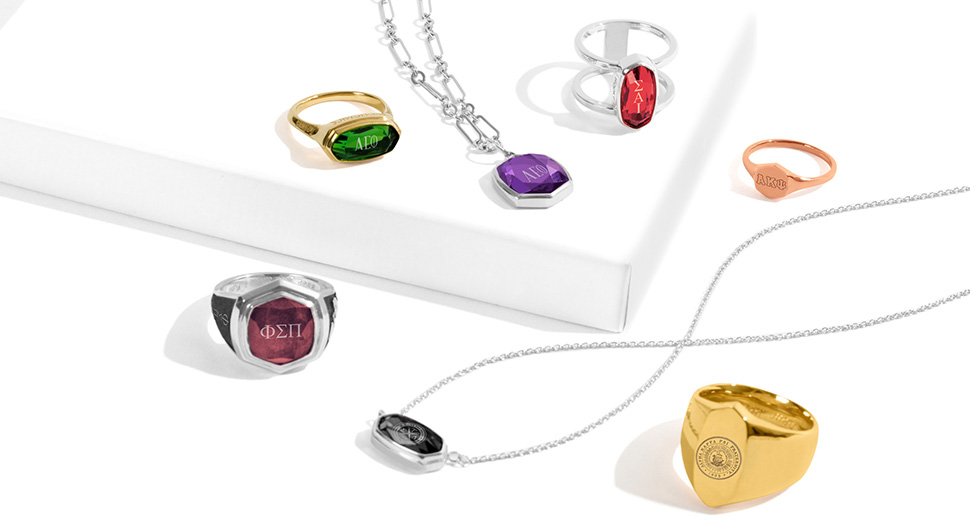 The iconic brand of yearbooks and class rings Balfour & Co. likes to think of itself as "a century-old start-up". The Dallas-based brand received a majority investment last March from a group of investors led by a subsidiary of Cerberus Capital. After merging several brands last October under the name Balfour & Co., she is now starting something new: an exclusive collaboration with Kendra Scott on a new collection of Greek jewelry.
As one of the largest entry-level service companies in the United States, Balfour has 5,000 employees nationwide. He's known for everything from caps and gowns to class jewelry and apparel, ad products and photography, and millions of yearbooks scribbled with inside gags and notes from other graduates.
But today, that sound you hear is the whisper of countless frat boys and sorority sisters looking up from their beer pong to ask, "Did someone say Greek jewelry?"
Line represents 108 fraternities and sororities
The Kendra Scott Greek Collection launches with rings, necklaces and pendants representing 108 fraternities and sororities. Other Greek organizations will be added over the coming months. Styles vary by organization, but the overall collection includes three women's rings, three women's necklaces and two men's rings, all created with Scott's signature styles, stones and metals.
The collection is custom built and commissioned exclusively by Balfour & Co.
"We are proud to offer our guests such a remarkable way to commemorate their Greek experience and make it truly unforgettable," said Ryan Esco, CEO of Balfour & Co, in a statement. "Our collaboration with Kendra Scott on this unique Greek line is a natural extension of our highly successful Kendra Scott classy ring collection, and we are excited to deepen our relationship with the company."
Extends a Balfour-Kendra Scott collaboration
This isn't Balfour's first dance with Texas-based Kendra Scott. In April 2020, Kendra Scott launched her first-ever brand collaboration with Balfour: a line of eight ring styles and two pendants. Designed to "reinvent tradition", they gave students a new way to celebrate their academic achievements while reflecting their own unique style.
This 2020 collaboration was formed after the success of Balfour offering free Kendra Scott jewelry with the purchase of a Balfour class ring in fall 2019.
"Customer response to the Kendra Scott classy ring collection has been beyond our expectations," said Scott Blevins, chief product officer of Balfour, in the statement. Now that the company is going Greek, it hopes to generate even more interest nationwide.
The Greek collection is customizable
Kendra Scott Greek jewelry can be personalized in many ways. Metallic options range from sterling silver to 18 karat gold in white, yellow and pink. Coins can be engraved with the Greek letters, crest and logo of an organization, as well as personalized elements such as a member's initials, date of enlistment and duties performed.
"Bringing these styles to exclusive Greek living allows us to offer additional pieces that they can't get anywhere else," said Jaclyn Canon, Marketing Director of Balfour.
The collection is sold exclusively on Balfour.com, the company said.
Cerberus Capital became majority shareholder last March
Last March, a group of investors led by a subsidiary of Cerberus Capital Management became the controlling shareholder of Balfour's parent company, American Achievement Corporation. Ryan Esko was named CEO around this time. The investment was aimed at making the company "well positioned to invest further and grow its business for the long term".
Consolidation as Balfour & Co.
Last October, American Achievement Corporation rebranded itself as Balfour & Co., combining its seven brands, including Balfour and parent company Iconic Brands, under the new name Balfour & Co.
"Bringing together our various businesses under one corporate name aligns with our strategy of working as a team and delivering excellence to our customers every day," Esko said at the time. "The additional investment from our new owners gives us the fuel to achieve excellence, innovate further and launch our next phase of growth."
This next phase of growth is already underway – and it has a Greek accent.

Join the list.
Dallas innovates, every day.
Sign up to keep an eye on what's new and coming to Dallas-Fort Worth, every day.